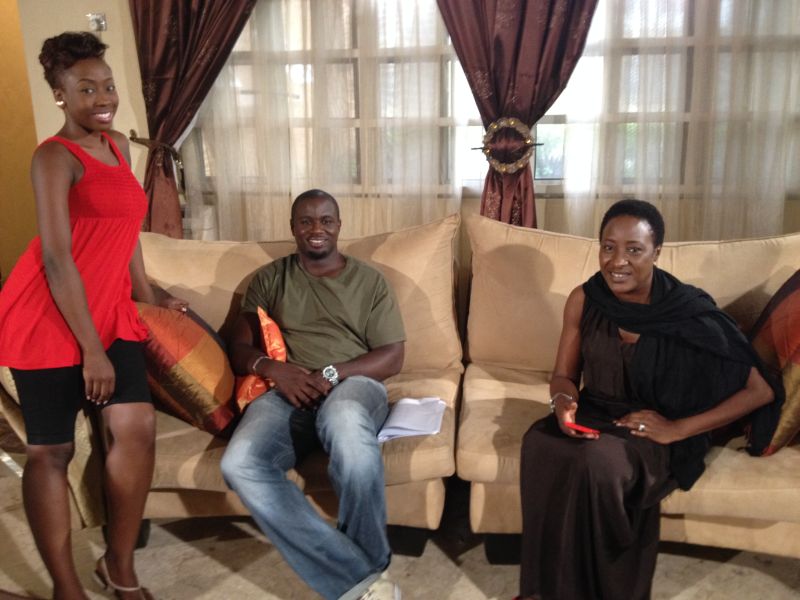 Tall; talented and tenacious, he exudes a kind of passion that fills the air and makes everyone a believer of what he believes. He doesn't do it with force. He does it with a persuasion that appeals to both the head and the heart. Udoka Oyeka, Nollywood's poster boy for brawn and brain, is an embodiment of a new generation of Nigerian film-makers, directors, actors and scriptwriters. From the United States to Nigeria, he's come with a fresh breath to redefine, in his own way, Nigeria's entertainment industry – particularly, the movie sector.
He is a firm believer in the Nigerian movie project and characterises a confidence uncommon to Nigerian film stars. A fascinating man of values and an enduring storyteller, and as he reveals, a lover of dogs, Oyeka speaks with Adedayo Adejobi about his creative spark and experience on Tinsel set, why he dropped music for acting and his film production projects. The US-educated movie star also gives Nollywood an unparalleled ranking among world's movie hubs; he rates Nollywood above Hollywood – and he's not joking. As a charming star with a chiselled figure – you call it a man with six packs – he comes across as a man any doting lady will live for. While he's not in any relationship right now, he hasn't stopped hoping for the right lady. Besides that, he also talks about his yet-to-be released suspense-filled, intriguing 16 minutes short film –No Good Turn – on the ongoing infamous Boko Haram insurgency in Nigeria's North-East
• Why I Moved From Music to Movies
• Acting is a Job, I Don't Need Inspiration to be in a Movie
• I Am Not Just An Actor with a Pretty Face
• I Am Waiting for the Right Person, Two Years after My Broken Relationship
Why did you choose a career in the creative industry?
I had my self-discovery while in the United States at the university. I had wanted to study Music – to compose classical music – but my parents wanted me to study what they termed more professional. So, I enrolled for a degree in Accounting. But my second year, I took a Theatre elective. The passion I have for music is still there; I transferred that passion to the stage. I did some school plays and after graduation I did some community theatre around Dallas and put myself through drama school for two years.
Share the experience of your first major film
My first major film was my own film. When I came back, I was just an actor and it was hard to find very good productions to be a part of; because I was not in that network. So, I decided to make my own films because I have my own stories to tell. It took me two years while making the movie Red House 7. I was at that time doing a lot of research about filmmaking and directing. I played a small part in it as well. We did the pre-production in Toronto (Canada) and brought it back to find two distributors and went with Silverbird Distributions, and the movie was in the cinemas.
After that, have you been part of any other project?
After Red House 7, I made my first short film – Down and Out – which had three nominations at the AMVCA. It was in a bunch of international film festivals. It Astarred Kemi Lala and Kenneth Uhoho. I followed that up with Living Funeral in collaboration with Pink Pearl Foundation. It had eight nominations at the AMVCA. I was nominated for Best Director and the film was nominated for Best Film. It was also at the Cannes Festival at the Short Corner, and then it did a few other festivals like AMAA, Durban, New York, and Los Angeles. I just finished a film, No Good Turn, which deals with the Boko Haram insurgency. So far, it's been doing well at international film festivals like Cannes, European Independent Film Festival and Durban International Film Festival, all this year.
Perhaps, it's obvious but why did you choose to do a film on Boko Haram?
Boko Haram has been a big issue in Nigeria and (the sect) got extremely violent in 2009; the year I returned from the United States. I had made three films already, and nobody was talking about them. Films being (a part of) our biggest export, it was impressed upon me to tell the Boko Haram story. The spark (of the film) was telling the story of the many souls dying every day. Going forward, I had a friend who had a script on Islamic terrorism in the North, and the story wasn't really strong enough for me. (Out of dissatisfaction with that piece) I went ahead to write No Good Turn. I met with Bolanle Austen Peters of Terra Culture, and she loved the project. We also talked to Ford Foundation and Neri. People got onboard and we made the film. It took about two years for the film to crystalise. Finally, the film is out.
When will it be officially out?
Maybe towards the end of the year; by then, I'll release it for a short period of time and then re-release it early next year for free, online, so people can watch it.
Generally, what would you say inspires you to act and write?
I think for acting, you don't need inspiration to act. It's a job. What I look for is a story and a character that speaks out to me. The character must be interesting and should challenge me. Because it's a job, it must be good as well. These things attract me to being part of a project. But as a director, making a film is more emotional. It's a long-term project with a minimum of one year to make a film. When acting, shooting and directing, you are attached to the production and until it's done you can't move unto the next one. With directing, it's a longer process. In view of that, I am picky about the kind of films I direct or decide to make.
In the last 10 years, Nollywood has evolved. Is there any basis to compare Nollywood with Hollywood?
I think we are on the right track. If you look at the history of Hollywood, it's about 100 years in the making, with Nollywood hitting about 25 years. In the last seven to eight years there has been a huge leap in the growth of the industry. Almost every film you see now has production values that are way better than you would see in the last decade; production values which have reached new highs, with better technical crew. I think the only area we are lacking is in the area of how we tell our stories, and that for me is real film-making.
I think we have a few film-makers who are trying to address that issue. In another few years, we will get to the stage where we'll see Nigerian films compete on the global stage. We already have films doing well in film festivals. As you know, film is a capital intensive investment. So, for you to make a film that will compete on the world stage, you are looking at a minimum of $500,000 to get the right cast, crew, post-production, etc., on the film. If you put Nollywood side by side Hollywood, I think Nollywood is doing better.
Doing better? Is that a fact?
Yes; Nollywood is better. It's just the fact. I am looking at 100 years industry as compared to a 25-year-old industry and the amount of progress made in those years. If we do it five times more, we would be where they are, because we are already competing with them in the area of production. By the time we get better stories, with more sectors sponsoring our industry, in no time we'll be competing with them.
Read Full interview HERE