SERIES DIRECTOR: EMA EDOSIO
WRITERS: YINKA OGUN, DEBO OLUWATUMINU AND TUNDE BABALOLA
CAST: CAROLINE CHIKEZIE, BIMBO MANUEL, TAIWO OBILEYE, PAUL CHRISTAIN CHUKWUDI, AND NAJITE  DEDE
NO OF EPISODES: 13
When the Governor of Savannah state dies from a car accident, the state is not only concerned about how to mourn their dear Governor but also they have to find who will take over and as the constitution has it, it has to be the deputy governor. In this case, the Deputy Governor is Angela Ochello. She is female and with that, the chauvinistic men that make up the government think they can manipulate her, get a share of the public wealth and enrich themselves and when she resists, they oppose her government with everything they have. Her father Chief Momoh (Taiwo Obileye) is an influential man in the politics of Savannah State and in the days of his youth, he was a renowned figure;  an impact he has retained even in his old age . Known for his firm reputation in politics, his reputation also plays a part in the eagerness to bring Angela down. There is Friday a commissioner on Angela's cabinet whose hope of taking over as governor is killed when Angela takes over.
There is also Dr Jalo (Paul Christian Chukwudi) who is a snitch, desperate for some sort of commission and so he plays both parts, he puts his son forward as the main candidate to take over from Angela when she is impeached. Angela whose intention was never to be governor has to deal with the misogynistic and position hungry men in the government, they don't come to terms with her position as the Governor and so, plot after plot they try to take her down. From episode ten they get a backup to impeach Angela. She was never concerned with being Governor at first and so she struggles, she fights, she plots her attack but when it gets quite humiliating, like a true queen she chooses to resign and not give these men the honour of fully humiliating her.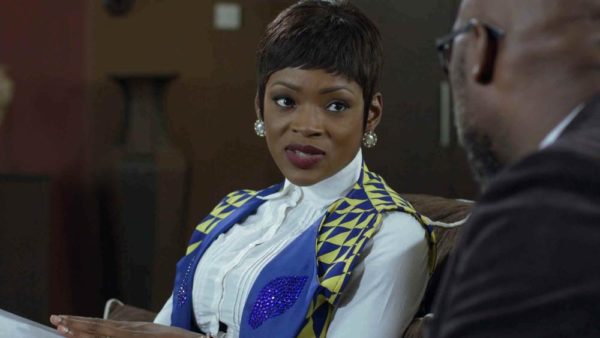 The Governor is a series; I would have loved to see before the 2015 election. It is an important story. Especially in Nigeria, it is more than the female story, it is a story of corruption and greed but it puts a female at the forefront, the best part is she has the capability to resist opposition, she is firm and resilient. These are the type of female figures we want to see in film. It does just not just deal with politics; it picks from the many different aspects of life and explores what successful women go through especially if they decide to be honourable women. From the very beginning, we see how different men continue to plot to bring Angela down. In the beginning, her husband David Ochello played by Bimbo Manuel gives her an option; she either picks him or politics. Angela (Caroline Chikezie) is adamant. Eventually, her husband settles and he begins to support his wife.
Her children also suffer as a result of their mother's ambition. In episode 10, her daughter Iffy says, it was even better when her mother was deputy governor, they had enough time to talk, to be a family but when her mother became governor, things changed and her concentration was on the state of Savannah and she admits to severally praying for things to be normal again due to her mother's absence. It is a struggle, a dilemma, to balance family and career, in the governor we see the struggle of balance, a woman that is needed on the home front as much as she is in her career. In the last episode when Angela resigns, we see the sense of satisfaction she gets from relaxing with her family and helping her daughter through heartbreak.
The best part of The Governor was the men's meeting. It was sneaky, it was realistic, it was angry and it was a reflection of our real world. Where a lot of catfights go on when people badly want a position. When men that refuse to own up to growth and accept a woman as governor sit and let all their venom out. Their anger is not the best part of it though, it is the acting. Whenever the men, the big three as they are called, held a meeting, I had a fantastic time watching The Governor. Edmond Enaibe was particularly fantastic.
Bimbo Manuel was the best part of this series. He was comfortable in his role as David Ochello, he delivered his role with so much experience and at the end of it all, he was the best decision the series made aside from having such an impressive storyline.
Let's talk about the lead actress Caroline Chikezie. She was calm, she was a pretty governor with a strength that was able to shine in some scenes but watching The Governor, my head kept popping with the image of Ireti Doyle, the intensity that her prowess would have brought to the character of Angela Ochello is something I would have loved to experience. Caroline carries the role with a sensitive elegance and maybe that was what the series producers wanted.
Another beauty of this production is the styling of The Governor.  The African prints, the beautiful capes, the beautiful dresses stood out. It was wonderful to have a firm governor with a good sense of style. Styled by Sandra Itu, her choices are trendy and present us with a Governor with a sense of choice not just for her cabinet but also fashion wise.
You can catch repeat episodes of The Governor from episode 1- 13 through this week on Ebony Life TV.
About the Author
Rejoice Abutsa is a 21-year-old  aspiring Filmmaker and a big dreamer. She's also a 'Theatre and film' arts graduate from the University of Jos, Nigeria.