DIRECTOR: SEYI BABATOPE
WRITER: TEMITOPE BOLADE AND DICHE ENUWA
CAST: UDOKA ONYEKA, OREKA GODIS, WERUCHE OPIA, ENYINNA NWIGWE, STANLEY CHIBUNNA, DIANA YEKINNI.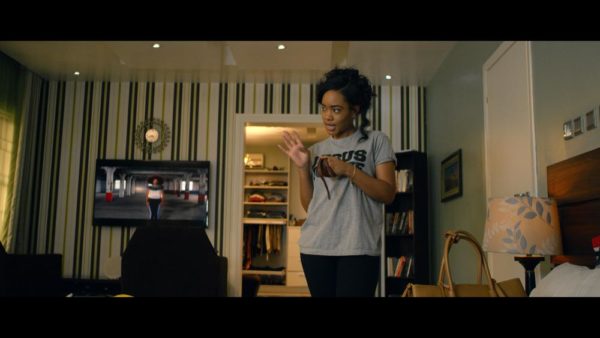 Most of us were exceptionally impressed with the 2014 romantic feature When Love Happens. Two years down the line, we have a sequel and some of our favourite characters are replaced with new faces except, Mo (Weruchia Opia) and Tseju (Oreka Godis)
The film almost picks up from where we stopped. Modurofi AKA Mo fires her boss and starts her own event company. The lovely Tobe, formerly played by Gideon Okeke is replaced with Udoka Onyeka and the film kicks off presenting us with a couple in a happy relationship. Eventually Mo scores a mega deal to organise a party for the flamboyant billionaire, Demilade Adenuga played by newcomer Folajimi Akinsola. Tobe's friend (Enyinna Nwigwe) plays the intruding friend; he manages to convince his friend that something might be going on between Mo and Demilade. It was easy to suspect something was up and Tobe's jealousy gets the better part of him Demilade is young, he is rich and he is handsome, Demilade also extends a hand of friendship to both Mo and her best friend and this is enough to question his motive. Even Tseju questions the constant attention they get from Demilade.
When she flies for the event, Tobe calls she does not pick and to save his relationship he flies with his friend to Washington DC to find out what is going on. The action seems too organised, first of all Tseju offers to travel with Mo and then Tobe flies with Eyi to rescue his girlfriend.
Soon after getting to their destination, Mo, Tseju and Jennifer (Diana Yekini formerly Beverly Naya) are after a friends boyfriend, whom they suspect is cheating. This sets the tone for a lot of events in When Love Happens Again.
I love the growth of Mo's character in When Love Happens Again. in the first film she was almost a complete nag and what we see in this film is a woman that has evolved, she has her own company and is doing really great for herself and that is commendable, it is not every sequel that presents us with a characters growth but When Love Happens Again does. It is important to feature the many aspects and growth of a character and we don't see a woman that has been in a particular place from the first film to the second film. There is growth and I commend the writers for this simple effect.
Generally, the story-line attempts to be more impressive than the first film and it had everything set out to be more interesting. A better twist and an upbeat story-line this time around but it does not succeed in being more impressive than the first film, maybe because it starts out too ambitious. Too many things happen at the same time. Mo and Tseju are trying to find out if their friend, Zainab has a cheating boyfriend and an unstable Tobe is also trying to find out if Mo is cheating with the new billionaire she is working for and this sets the tone for the films problem.
Funnybone appears to offer the comic relief that this film needs and even though I was able to laugh, it was difficult feeling that this was a better offering compared to the first film. Imagine Kunle Afolayan offering us a sequel for Phone Swap. Will you love it? A good film is best left to be remembered solely.
Acting was incredible from the cast; they match up to the first cast. Udoka Onyeka offers the role of Tobe some maturity and humour and I totally enjoyed his performance. Weruchia and Oreka Godis were just as great. A little spice was Diana Yekini being added to the production. There are a lot of similarities between her performance and that of Beverly Naya and at the end of it, we don't really miss the first cast but we miss the spark we enjoyed in the original When Love Happens (you can check the original on iRoko TV)
This is a collaboration of industry heavyweights from Seyi Babatope to Filmhouse Kene Mkparu and so what we get is incredible cinematography as we did with the first film and also great sound.
When Love Happens Again is an okay film and a sequel was not necessary but you know how it goes, if a film is successful it makes sense to make more money from it even if it is a sequel that does not really add up.
About the Author
Rejoice is a 21-year-old  aspiring Filmmaker and a big dreamer. She's also a 'Theatre and film' arts graduate from the University of Jos, Nigeria.