Written by: Dami Elebe
Director: Emma Edosio
Cast: Ngozi Nwosu, Abimbola Craig, Sharon Oja, Ini Dima Okojie, Timini Egbuson
Rating: B-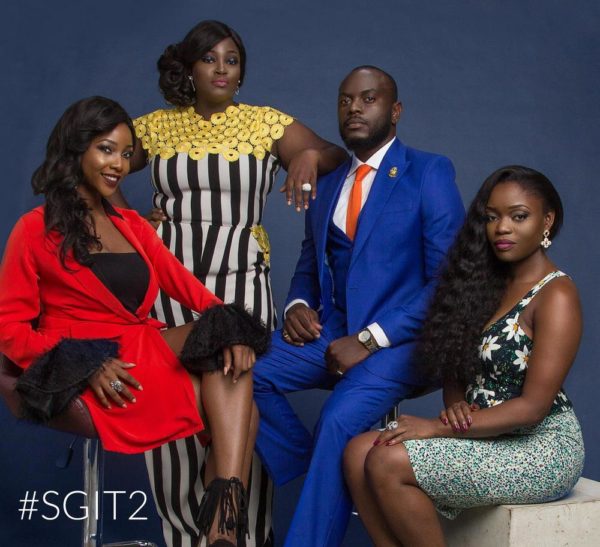 The numbers keep going up with every episode and that is how you know that a show has a dedicated fan base. Ndani TV is top on the chain of Web Series but the most popular series straight out of this key channel remains "Skinny Girl in Transit" and it is popular for all the right reasons.
"Skinny Girl in Transit" focuses on the life of Tiwa Awosika, she is an on-air personality with a little weight problem. We focus on Tiwa's journey to lose weight, her love life, her encounter with the people at her work place and her interesting family.
To give a fresh start to the third season, we are introduced to Hadiza. Hadiza has a goal and it is to be at the top as the Head of Programmes and remain at the top and to do that she frustrates others, especially Tiwa. The third season picks on female rivalry and the writer pitches our main female lead with another interesting character. Hadiza opposes everything we know of female unity, she is the perfect antagonist. With Hadiza, Tiwa has a new demon to fight and this time it is far from her weight. Dami Elebe ensures that the rivalry between these two women is flimsy to its core, it is an interesting take on female rivalry, but there are women like Hadiza all over-they lack the zeal to support other women and so they dedicate their life journey to making life uncomfortable for other women.
Tiwa is perfectly plus sized and she has a sister, Shalewa, who is the opposite, the perfect model shape and yet what we take the most in Season 3 is that beauty is skin deep. In episode 5, Shalewa wants Tiwa to share the secret to her good charm and for that episode alone, we have a lot of reasons to say thank you to the writer.
Personally, I have a few plus sized friends that find Skinny Girl in Transit satisfactory but it is not Tiwa's resolve to lose weight they find intriguing, it is her lifestyle as a plus sized person, her confidence is endearing.  If you've never had to deal with an extra kg, or take the worst things to lose some weight it will be hard to understand why 'Skinny Girl in Transit' offers the right dose of inspiration.
The series is well written, even though the writer cannot overcome some mishaps in writing the story of Tiwa, and many in Season 3, we forget it is the story of a lady's journey to losing weight. In a bid to spice up the show, rivalry accounts for the better part of season 3. The men; Mide and Nathan are at war for Tiwa. Tiwa and Hadiza also struggle for a post at work and also, for Mide's attention. Tiwa's mother and her sister also join in the rivalry contest. Further stretching the drama, Tiwa loses her goody image by having a one night stand. It is contradictory from the personality of Tiwa which the writer has stretched from season 1 and 2. The writer twists the narrative by having the one night stand scene, we are never able to understand it but judging by the reaction on blogs, it spiked a few hot topics and for a show that banks on social media popularity, it works. It works for the masses waiting for a little twist that does not matter but incites excitement, but for "Skinny Girl in Transit" faithful fans, it is not what we expect of the show. It ruins the focus of the story for a few minutes and that is enough time to ruin the whole season. If the intention is to portray Tiwa as a plus sized lady that gets attention, then it does not work. If it is to wash off Tiwa's good image, it still does not work. There is no build up for what happens and 5 minutes after, the purpose of having a scene with the one night stand is still not established.
Ngozi Nwosu's name may not resonate around with the social media savvy audience but she has been around for a very long time. She is perfectly cast as Tiwa's mother; her name screams Igbo but she plays the hilarious Yoruba mother. She loses most of her humour in season 3 but she continues on her quest to get her daughters married very quickly. Marriage to Mama Tiwa is an achievement; after all, her own husband gallivants around trying to sort out the family while she busies herself in the kitchen and to her that is enough. That is what she also wants for her daughters. Tiwa as the first daughter faces intense pressure; every move is directly linked to marriage. Mama Tiwa is so extreme that she humiliates her sister, Dupe, for going after a career instead of a husband.
The beauty of the story from Mama Tiwa's perspective is that, it is the story of many mothers in Nigeria, they let go of their own dream, they let their husbands go after the dream instead, they have kids that are accomplished but they are conscious of their children getting married. And as her sister Dupe points, marriage can be a source of joy and also the cause of great pain. Mama Tiwa goes on about marriage from the first season to the third but we finally realise that despite her obsession with marriage, she has had a terrible experience with marriage herself but she insists on keeping away that part from her daughters. She has sold marriage to them as wholly perfect; she wants them to aspire to it so aggressively that she helps them when the men they have interest in come around; she lies just to get a man interested in her second daughter and she cooks the perfect meal and directs all credit to Tiwa just to get Mide to compliment her daughter as the perfect cook-and in extension the perfect wife material. She loves her daughters and most times she is the perfect mother, other times she is overtly annoying and aren't all mothers like that?
Skinny Girl in Transit 3 is not as impressive as season one or as engaging as the second season, it tries too hard to meet up and so many more stories are devised to make the whole experience more interesting but an avid viewer will notice the disconnection. Nonetheless, the purpose is clear and we cannot wait to see what dimension the next season takes.
About the Author
Rejoice Abutsa is a 22-year-old  aspiring Filmmaker and a big dreamer. She's also a 'Theatre and film' arts graduate from the University of Jos, Nigeria.