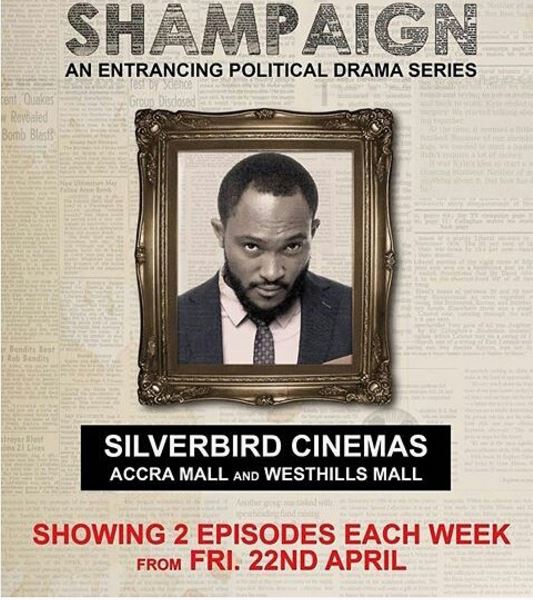 Producer: Shirley Frimpong Manso and Ken Attoh
Director: Shirley Frimpong Manso
Cast: Blossom Chukwujekwu, Joselyn Dumas, Zynell Zuh, Godwin Namboh, Lyn Bentih, Julia Hawkson and Miriam Saka
Year: 2016
Nana Akua Quansah's ambition is to be the next President of Ghana. She has succeeded as the gender minister and it is time to test a new and more challenging terrain. Nana is backed by a dedicated team; they will do anything to ensure her success. However, everyone in Nana's circle has a dark secret that could potentially ruin her chances at being Ghana's next president. In spite of their secrets, each member of the team manages to focus at the job at hand and keep their job at the fore. They want Nana to win- they struggle for her to win and the whole series balances the life of Nana and her crew publicly, and then privately.
"Shampaign" is a political drama on-screen and off-screen. It does not just concentrate on a political story but the vision of the auteur is to promote her country in the way it is. Shirley Frimpong Manso concentrates on the political landscape of Ghana which is not as corrupt or as controversial as other African countries. She portrays a Ghana that is safe enough for a political aspirant to take a distant journey by road with her team and without security.  She promotes a Ghana so unbiased that a presidential aspirant is subject of investigation, the police recognize her but they do not compromise, because she is a citizen she will be treated like all citizens. Films can make us aspire to go to places that we have never been to. A film can be a tourism campaign and Shampaign is just that.  Shirley takes time to feature scenes in "Shampaign" that speak of Ghana as she wants it to be. She promotes Ghana in a way that we thirst for the country.
She is strategic in creating "Shampaign." As a female, she uses Nana Akua Quansah to aspire for a strong female political aspirant that has her demons, an aspirant that will face challenges from a misogynistic society, and yet will be a representative of women and an inspiration to women.
To introduce us to Ghana and the political space in Ghana, "Shampaign" takes on major problems of women in the political scene. Nana continues to be referred to as "hips" by her political opponent, Nene Addo Doaji. The media on the other hand refers to her campaign process as a beauty pageant.
"Shampaign" takes inspiration from the recent events that have dominated pop culture, from America's election, to the inability of Nigeria or Ghana to present a strong female political aspirant. It reflects on how in time of campaign, politics ruthlessly takes advantage of everything as long as it assures the candidate some votes. Politicians will speak of the poor as if they care, they will relate to the disenfranchised as if their story will soon change. Nana and her opponent use a rape victim to gain support, they all rush to her bedside and everybody has an opinion of the situation, they both struggle to have the best opinion that will be favorable to voters.  This is something that all politicians do while campaigning. They want to show compassion, so that voters can be compassionate with them while voting but when they get into office, they act for themselves and family not the citizens that voted. In "Shampaign" important topics in our society take center stage, for example, the consent to abortion after rape; it also takes on the issue of women deciding the path to their life while damning societal rules and prejudice.
If you are a fan of Ebony Life's "The Governor" you will find this a little underwhelming. Shapaign is more challenging than "The Governor" though, and that is with regards to the storyline and the themes Shirley concentrates on, but it concerns itself with the story of politics too deeply that it looks and feels too heavy.  Episode 1 is difficult to get past, maybe because it does not feature the wild intrigues, or the catching dialogue we expect. What sustains us is the secret everyone is keeping. It is the reason we watch the next episodes. Usually, I lack the patience to follow a series after an uneventful first episode but I watched "Shampaign" all through because it is the work of Shirley Frimpong Manso. The secret to getting a crowd back for another episode with series is to create a powerful first episode. It is what "Suga" does; it is what "Gidi Up" does, always.  The audience can feel disconnected from watching the follow-up episodes but not the first episode; this is the cardinal role of making Web Series. "Shampaign" is able to pick up and be better after the first episode but it does this slowly. If you are a fan of Shirley, this falls below the list when talking about her body of work. Shirley is a genius when it comes to writing and directing but "Shampaign" does not feel like her work. It is lukewarm. It carries a strong story but it is explored without intrigues.
Joselyn Dumas is good and Blossom is excellent. Shampaign lacks something; it does not carry the mystifying and courageous appeal that the works of Shirley Frimpong Manso come with, and that is the problem.
About the Author
Rejoice Abutsa is a 22-year-old  aspiring Filmmaker and a big dreamer. She's also a 'Theatre and film' arts graduate from the University of Jos, Nigeria.