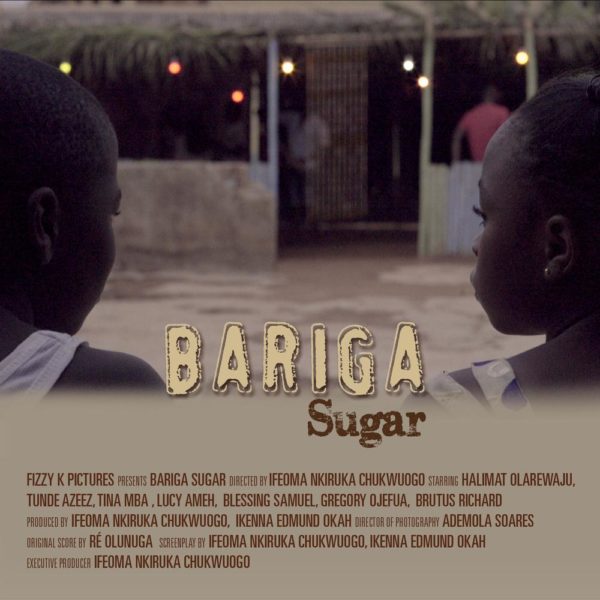 Director: Ifeoma Nkiruka Chukwuogu
Writers: Ikenna Edmund Okah and Ifeoma Nkiruka Chukwuogu
Producers: Ikenna Edmund Okah and Ifeoma Nkiruka Chukwuoga
Cast: Tina Mba, Mercy Ameh, Blessing Samuel, Tunde Azeez and Halimat Olarewaju
Year: 2017
"Bariga Sugar" first made its debut at the 2016 AFRIFF film festival, at the time it got some mentions on social media sites but we had no idea what the talk was about. This year, the film made its way online and we see why.
The topic of poverty relating to prostitution is a sensitive one. Many will argue that the word prostitution is only used for women that come from poverty and trade their bodies for money, while the classier name for prostitution in Nigeria is "runs." Bariga Sugar lays the difference; we hear the story through a young girl. She tolerates her mother's constant male visitors. Her mother refers to these visitors as "mumus" and yet this girl wonders why her mother will keep fools as friends. When the visitors visit, she sits under the sun and waits for her mother to finish the day's work. It is a re-occurring situation. Soon a new young lady from the North, Hannatu, is introduced to the compound; she comes with her son who is the same age with Ese. The difference is that Jamil, is a little more educated and so when he interacts with Ese for the first time, the aim is to teach her what he knows.
"Bariga Sugar" is a straight film that does not ponder too much on masking prostitution as entertainment. It focuses on children and what the environment they grow in does to them. For a young girl like Ese to grow in such a consuming environment it threatens to consume her too.
Ese and Jamil become friends and in the midst of all the filth, they provide each other solace. They play together but also learn together and that is what makes the film intriguing. In what ends up as the most memorable scene of the film, Jamil shows Ese an anthill and asks her if she will like to be a queen someday. Her answer is yes, but her description of the kind of Queen she wants to be surprises us. She wants to grow to be Queen Sugar. Queen Sugar (Tina Mba) is a pimp. She controls the affair of everything that happens with the prostitutes. By observing Queen Sugar, Ese found her hero. Jamil is there to encourage her to be a queen like real queens, and not the type of queen that reigns in Bariga.
Aside from its intriguing story, Bariga Sugar makes good use of dialogue and also fantastic actors.
Tunde Azeez and Halimat Olarewaju are child actors but they manage the roles the play quite fine. We feel the extent of the destruction their environment threatens to cause by watching them. They make the film highly enjoyable.
By now, we should all accept that any film with Tina Mba is a film that is worth our time and Bariga Sugar proves that Tina can do anything, just send her the script.
The cinematography is crisp. The sound is excellent and "Bariga Sugar" is a commendable film.
Watch the film here