Through the next months, we are going to be viewing films made by female filmmakers (both directors and producers). These films are slated for release for the next half of the year, women are dominating the industry and we are proud to see this.
Below, we look at some of the films made by female filmmakers we are eager to see. We're only covering films/ series that promise to spark conversation judging from their trailers, or the excitement already created by the announcement of such projects.
Genevieve Nnaji: Nollywood's sweetheart has assembled arguably the highest number of celebrated actors and entertainers for her upcoming movie – Lion heart. The actress has featured in over a hundred movies, and made her debut as a producer in 2015 with "Road to Yesterday". The film is written by C.J 'Fiery' Obasi, who was set to direct but plans changed quickly and the star actress took the directors seat. Lion's Heart follows the story of an Igbo family that is into transport business. There is so much to look for in a directorial debut and Genevieve's new movie is one we are eager to see. The film was shot in Enugu and features Pete Edochie, Nkem Owoh, Kalu Ikeagwu, Steve Eboh, Onyeka Onwenu, Kanayo O. Kanayo, Jemimah Osunde, Yakubu Mohammed and Sani Muazu.
Mo Abudu: Media mogul, Mo Abudu likes the November/December film release time frame. Ebony Life films has teased two films both directed by male directors but Mo serves as executive producer. Judging by her previous films, these films will have crazy marketing strategies that should leave Mo at the top of the box office. We want to see the new direction "The Wedding Party 2" will take, and we cannot wait to watch Jide Kosoko, Patience Ozokwor, Joke Silva, OC Ukeje, Charles Inojie, Zainab Balogun, Kenneth Okolie, Deyemi Okanlawon, Lala Akindoju, Akah Nnani & Ini dima Okojie in "The Royal Hibiscus Hotel".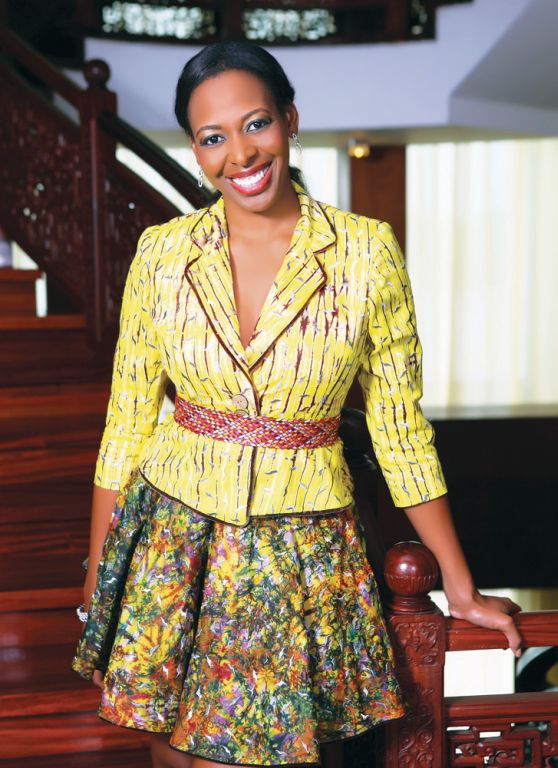 Biola Alabi: Biola is an African media expert and Managing Partner at Biola Alabi Media Consulting. Until recently, Biola served as Managing Director of Electronic Media Network (MNET), Africa's first private and leading subscription television service. As Managing Director for MNET, Biola worked tirelessly to produce and air stories created by and about Africa and Africans, which is enough experience to launch her as a film producer in Nollywood. She is starting with an interesting genre – comedy. Her expertise and knowledge of the film business should launch a successful film in August. Banana Island Ghost caused quite the stir after the first trailer was released online; there is so much to anticipate from the film which will storm theatres in August. "Banana Island Ghost" promises impeccable cinematography, thrilling music, and is heavy on hilarious dialogue and some interesting fight scenes. And yes, Chigurl is there. The well-constructed trailer is enough reason to check this out. Too scared to see a story about a ghost? Especially in Nollywood? Ghost stories are rarely believable in Nollywood, but "Banana Island Ghosts" promises, from its trailer, that this is really something "BIG" and different.
Adesua Onyenokwe: In collaboration with Peju Fa­direpo of  Maysquare studios, Adesuwa Onye­nokwe of TW Media Concept– publisher of the popular Total Woman magazine and the producer of the show, Seriously Speaking, is embarking on a project on domestic violence that is inspired by true life events. The untitled project is set to feature Damilola Adegbite Attoh, Kanayo O. Kanayo, comedian Ak­pororo, IK Osakioduwa, and popular radio show host, Yolanda George Adams. For Adesua, this project is more than a movie—"it is a movement". A movement against domestic violence is definitely a yes for us.
Ugonna Nwachukwu: Ugonna Nwachukwu tested the waters before proceeding to make a feature length film. In 2016, she released "Collide Sisters" a short film that explores the impact of buried secrets once they get revealed. "The Watchman" featuring Kalu Ikeagwu dramatizes the story of a London-based banker, Adams Rawlings, and a celebrity church proprietor, Pastor Samuel.
Lowla Dee "This is it" Season 2: Earlier this year, we reviewed Lowla Dee's impressive web series "This is it"; it was so good that it got picked by Ebony Life TV. Lola Dee is currently working on a second season. She recently released the title for each episode and some interesting titles got our attention, "I think he cheated", "Therapy and a challenge", are two teaser titles that leave us eager to see what is up with the good looking pair. 
 Inya Lawal and Shirley Frimpong Manso
Inya Lawal heads Ascend Talent Management and manages some successful stars. Ask about an incredible female filmmaker and I will call Shirley Frimpong Manso, whose body of work includes "Love or Something like that", "Rebecca" and "The Contract". Inya and Shirley are collaborating on "Potato Potahto" a story about a divorced couple who decide to share equal space in their ex-matrimonial home and soon realize that the ingenious idea is easier said than done. Bent on flexing their egos and scoring points, the two implore various hilarious tactics that soon inflames emotions and turns an already complicated situation into a roller coaster ride. It already had a bold start by premiering at the Cannes film festival, it features a mix of Ghanaian and Nigerian talents including, OC Ukeje, Joselyn Dumas, Joke Silva, Kemi 'Lala' Akindoju, Blossom Chukujekwu and Chris Attoh
Norway-based Regina Regina Idu Udalor is the producer of The Lost Cafe, an international collaboration between the film industry in Norway and Nigeria's Nollywood.  The Lost Cafe is an uplifting story about a girl's decision to rise above dark family secrets and culture shock to live her dreams abroad, finding the most unusual answers to her troubling questions somewhere in Drammen where she meets the half blind, strange owner of a quaint coffee shop that serves the best coffee in the world…The film's idea stemmed from her short script. Screenplay by Ifesinachi Okoli Okpagu, Jeremiah Gyang is the film's music producer and Akor Udalor, the executive producer.
Copyright NOLLYWOOD OBSERVER.
All rights reserved. This material and other digital content on this blog may not be reproduced, published, broadcast, rewritten or redistributed in whole or in part without prior express written permission from NOLLYWOOD OBSERVER.
Contact: nollywoodobserver@gmail.com