This year's International Women's Day is all about progress for the Woman. In honour of our women and the huge strides made in Film, check out our list of the best eight movies made by a Nigerian woman.
Keeping Faith by Amaka Igwe: We loved how Amaka Igwe told stories. She was indeed a Nollywood matriarch.  She made simple, everyday stories so profound, so entertaining. Keeping Faith was one of her best. Starring RMD, Genevieve, Bimbo Akintola, Ego Boyo and Funlola Aofiyebi-Raimi. The movie was directed by Steve Gukas. The romantic comedy-drama tells the story of Nadine (Genevieve Nnaji) who was in a relationship with Simi (Fred Amata) but discovered during a visit to Abuja that Simi was married.
A devastated Nadine returns to Lagos, and soon she falls in love with charming Mr. Princewell Sampa (Richard Mofe Damijo).  In a bid to "secure" her relationship and with mounting pressure from her friends, Bimbo Akintola & Funlola Aofiyebi to get him to marry her.  She caves in and uses "jazz".  The chemistry between Mofe Damijo as Princewill Sampa and Genevieve Nnaji as Nadine makes "Keeping Faith" one classic worth remembering.
DRY by Stephanie Linus: We don't get many socially conscious films but Dry gives us that, in the most genuine way, with deep dialogue that explores some challenges women go through. 122 minutes is not enough time to deal with all the issues women go through in Nigeria and so Stephanie carefully picks forced child marriage, rape and with these main themes, she uses well-crafted dialogue to touch on so many issues that affect the Nigerian woman.
A thirteen-year-old girl is forced into a marriage to an older man by her parents. Her resistance to the marriage is not enough, they take the money and when she moves to her husband's house, she experiences rape on the very first night, then she gets her pregnant. Too young to have a child, the child dies during birth and she suffers from VVF. The disease eventually causes her stigmatisation; the people in her community accuse her of witchcraft, of adultery. All due to the lack of enlightenment of what VVF is. Dry features Zubaida Ibrahim Fagge, Stephanie Okereke-Linus, Liz Benson, Olu Jacob, and Rekiya Attah.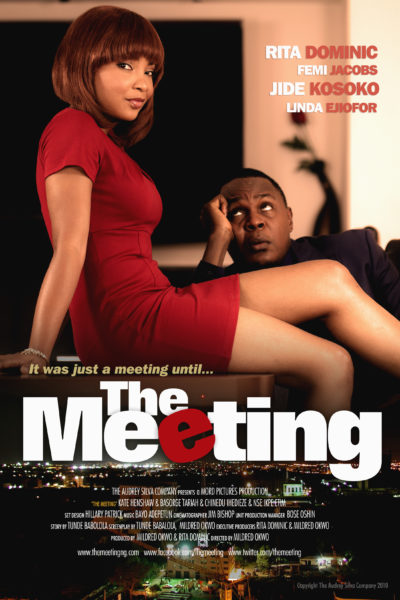 The Meeting by Mildred Okwo: Maybe we have Mildred to blame for all the ridiculous attempts at comedy which came after one of the best Nollywood films – The Meeting. The Meeting wasn't just silly comedy for the sake of it. It focused on an aspect of society which many of us experience but seldom address – "the obnoxious civil servant".
The story set in Abuja follows the frustration of Lagos-based corporate executive Makinde Esho (Femi Jacobs) who finds himself at the mercy of political patronage, bureaucratic red tape and Cupid's arrow while in hot pursuit of a 'meeting' to secure a government contract.  Starring Rita Dominic alongside veteran actor, Jide Kosoko; It also features Kate Henshaw-Nuttal, Basorge Tariah, Nse Ikpe-Etim, and Chinedu Ikedieze.
Violated by Amaka Igwe: Amaka Igwe was a legend! Violated was the rave of the 90's and many would agree that it was indeed the best Nigerian romantic drama at that time.  The movie which was made over 22 years ago was directed by Amaka Igwe and featured Richard Mofe Damijo and Ego Boyo. The film tells the story of a young man Tega Richard Mofe Damijo from a wealthy background who falls in love and marries Peggy (Ego Boyo) who comes from a different background. However, their marriage is put to the test when hidden secrets unfold and Tega's ex-wife re-appears on the scene.
Ijé by: Chineze Anyaene
Chineze's Ije, starring Genevieve Nnaji and Omotola Jalade Ekeinde, heralded the now growing box office era when the movie grossed well over N60 million over eight years ago. Considered as one of the best Nigerian movies in the last decade, Ije, the Journey is a story of two sisters, Anya (Omotola Jalade-Ekeinde) and Chioma (Genevieve Nnaji). Growing up in Oku Village on the hilly countryside, they learn to fight and watch each other's back. Anya loves to sing and years down the line, she leaves Nigeria in pursuit of fame, glory, and riches in Los Angeles, refusing to heed warnings from her father and her younger sister. But then, life deals her an ugly blow. She is held in custody for allegedly killing her producer husband, Michael Michino, and two other men. It is Chioma who receives the call and comes in to save her only sister. "Don't let Papa know about my troubles… he was right…," she tells Chioma who turns to Jalen Turner (Ulriche Que) a young unproven attorney who has just lost a high-profile murder case.